Beauty Trend Alert: Must Haves This Season!
Loading the player...
Videos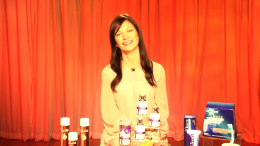 Embed code:
Copy (Ctrl-C or Command-C) and paste (Ctrl-V or Command-V) the code below to embed this video onto your site.
Check out our Terms of Usage
Fall is in the air and its time to think about sprucing up our beauty regimens! 
Beauty expert Jannine Morris had some simple solutions for getting gorgeous without spending a fortune! Hot picks for Fall skincare... Fall is the time to get your skin back in shape—especially after summer's harsh toll. Something that Morris loves and is a cult favorite is 
Bio-Oil. It has the breakthrough ingredient purcellin oil, which makes it light and non-greasy, ensuring that the vitamins and botanical extracts are absorbed into the skin without leaving residue behind. The formula works to maximize the skin's elasticity, eliminate scars, stretch marks and uneven skin tone. You can use it in the fall and winter to hydrate your skin as the weather gets colder. 47% of women think they can't improve the appearance of scars over time. This product is so great because it's a solution with muliple uses. You can find it the drugstore for under 12 bucks…a beauty deal. 
 Another amazing new skincare line is from Physicians Formula…particularly the Dark spot corrector & Skin Brightener Formula in the Anti-Aging Collection. It is formulated with highly effective, cutting edge ingredients and was clinically tested to show it helps you look 6 years younger in 4 weeks! The new Physicians Formula skin care line is cosmeceutical grade and includes cleansers, moisturizers and treatments. It targets dark spots and sun spots and helps skin look brighter instantly, more uniform in tone..and its under $20, exclusively at Walmart. 
 And the biggest and most inexpensive beauty secret—is a bright white smile! With so many whitening brands in stores, it can be confusing to know which products to choose. Morris loves the award winning Crest 3D White Vivid Toothpaste—it has a patented dual-action silica system that gently polishes away up to 80% of surface stains… in just 14 days…$3.25...another beauty steal! And for professional level whitening in the comfort of your home- Crest 3D White Professional Effects Whitestrips—it's amazing and it uses the same enamel-safe whitening ingredient that dentists use…for only $50 per kit! Check out 3Dwhite.com for coupons and savings! 
And don't forget about makeup trends for Fall: The look is a smoldering, smokey eye, metallic shadows and a bold red lip!   
Sponsored by: Bio Oil, Physicians Formula, Crest 3D White