Hot Summer Beauty Secrets
Loading the player...
Videos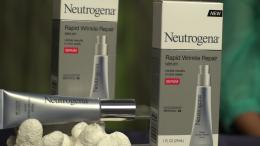 Embed code:
Copy (Ctrl-C or Command-C) and paste (Ctrl-V or Command-V) the code below to embed this video onto your site.
Check out our Terms of Usage
It's officially the first day of summer and Editor in Chief of Beautyblitz.com; Polly Blitzer has the scoop on the must-have beauty buys this season.
Everyone knows summer means more events to prep for– outdoor parties and tons of weddings. Everyone wants their skin to look its best, but with hectic summer schedules, it's hard finding time to achieve that beautiful, glowing complexion.
Neutrogena® 's Rapid Wrinkle Repair™ line is amazing because it delivers the most advanced form of retinol, and fast. In fact, 100% of women had visible results in one week and Neutrogena just introduced a new silky serum to the line – it feels so great on skin and goes smoothly over your complexion. Within one week, it helps fade the look of stubborn wrinkles, brightens skin tone and diminishes fine lines.
Now, of course in the summer it's all about showing more skin… Dove® has come out with their new Visiblecare™ Toning Crème Body Wash. It really gives women beautifully soft and smooth skin that you'll want to show off. It has the highest concentration of nutrium moisture technology across the entire Dove® portfolio. It really helps promote skin's elasticity and strength.The rich, pearlescent formula actually improves the look of your skin in just one week.
Summer also means unwanted hair and the number one name in hair removal is Sally Hansen.They have the greatest hair removing kits that give you salon results easy and fast at home, and last for up to eight weeks.They come with pre-waxed, pre-shaped simple strips, ideal for even short hair, no need heat them-just rub the strips to heat them up, no microwave needed. Separate, press on and pull off.
The wax formula also helps reduce the appearance of hair regrowth, which is awesome. It comes with soothing finishing oil filled with vitamin e, sesame and menthol for the skin, and removes traces of excess wax. There are two different sizes, for face, brows & bikini and for the body, legs, arms and bikini $. You can get salon results at home without the salon price tag.
Check out sallyhansen.com for more info.
When it comes to summer makeup it's all about the natural look. You want to play up your best feature as much as possible. Rapidlash is great; it is an eyelash and eyebrow enhancing serum that shows off your natural lashes, with a proprietary mix of proteins, vitamins, botanicals, and minerals.
Rapidlash helps to condition at the lash line, and makes your lashes appear healthier, stronger and fuller looking. It's the real deal - it works…even better than products that cost 2 to 3 times as much.
Dermatologist and Ophthalmologist tested and it's safe and easy to use. Just apply it once a night to your lashes and brows and see results in as little as 30 days. Guaranteed results in just one tube!