Hottest Beauty Trends: 2011 Emmy Awards!
Loading the player...
Videos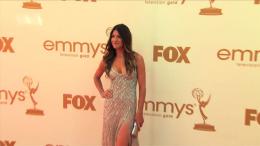 Embed code:
Copy (Ctrl-C or Command-C) and paste (Ctrl-V or Command-V) the code below to embed this video onto your site.
Check out our Terms of Usage
Gorgeous hair was all over the red carpet! There were some fabulous, classic looks--- and tons of color, golden, buttery blondes and really rich brunettes! 
To get these looks and maintain as well, it¹s all about working with your colorist to first find the shade that best suits you. Ask them to use Wella color on your hair-they have a full range to pick your perfect shade formulated to last longer, while protecting it at the same time. Also, make sure you have a moisturizing regimen. 
 The Enrich line from Wella has shampoo, conditioner and a treatment ­a brand new line just launched that intensely moisturizes each strand of hair and leaves it shiny, smooth and full of volume...amazing stuff and really the foundation to any great look! Another favorite on the red carpet was Wella¹s Velvet Amplifier Hair Primer. Much like a makeup primer prepares your skin, this actually improves how your hair responds to styling products so it¹s a must for any style! 
 Speaking of hair styles.. Evan Rachel Wood¹s finger wave was amazing! To get this look you need a few basic styling products- don¹t be afraid to mix them create a cocktail if you will. Sebastian Professional, Potion 9, is great. It¹s a lightweight miracle worker that keeps your tresses conditioned and manageable as you style your hair then use a strong hold gel ­like Sebastian¹s Gel Forte, this will add a gorgeous shimmer while really holding the look. Then all you need is a few bobby pins! Pin everything back, chignon style and spray it with a strong hold hairspray like their Professional Shaper Plus ­a fav of celeb hair stylist¹s. 
To create Jennifer Carpenter's textured tresses, try a more lightweight styling product ­prep with Potion 9 Light, a lighter version of the iconic Potion 9. Then apply Sebastian Professional Whipped Crème to wet hair. This is a great styling tip that creates soft, sexy shapes and will really give you those piecey, imperfect waves. Don¹t forget to use the lightweight "shaper" to really hold the look! 
On to makeup! 
To get the dewy look we see on the carpet follow these steps. Good skin starts with a great foundation and flawless skin regimine! Celebs like Giuliana Rancic swears by DDF¹s Amplifying Elixir to prep skin for any big event. It¹s a pre-moisturizing treatment with a potent mix of botanicals that boosts your skins hydration by up to 70%. Whether you have anti-aging concerns or suffer from acne, you can use it with any skincare regimen. Use it twice a day morning and night, after your cleansing routine and before your regular moisturizer. Follow with an SPF product in the morning and a moisturizer in the evening.
Sponsored by: Wella, DDF, Sebastian Professional