How To Get Healthy, Fabulous Summer Skin
Loading the player...
Videos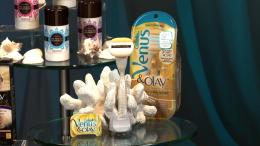 Embed code:
Copy (Ctrl-C or Command-C) and paste (Ctrl-V or Command-V) the code below to embed this video onto your site.
Check out our Terms of Usage
Want radiant, glowing summer skin? Who doesn't? Here are some simple tips with Celebrity Dermatologist, Dr. Doris Day.
'Tis the season to bare arms, legs, and then some! We caught up with celebrity Dermatologist Dr. Doris Day who shared her secrets to great looking summer skin.
So where does healthy skin start?
Dr. Day says, it starts by respecting your skin…keep it hydrated, and protected. Sunscreen is a crucial step in every woman's daily beauty routine whether she's going to be outside or not. Depending on your areas of concern, make it easy for yourself by looking for multi-purpose products that work with your specific skin type, but also have SPF and superior hydrating benefits. Olay has an array of different options that focus on different areas of concern from anti-aging to tone correction.
You might start to notice that the labeling on sunscreen packaging will start to change in the coming months because of new FDA regulations. "Another common issue when it comes to summer skincare, is hair removal, since women tend to show more skin in the warmer months," says Dr. Day. Shaving is a quick, easy and essentially pain-free way to remove hair, and also a great form of exfoliating.
Many people think that shaving can be irritating; you want a razor designed with skincare in mind…that also removes hair effectively. We asked Dr. Day, who told us, "A good option is the Gillette Venus & Olay razor. Venus' five blades shave you close, while Olay moisture bars help lock-in skin's moisture, for less dryness." The bars contain ingredients found in Olay products, such as humectants that help protect the skin's natural moisture barrier.
Another problem for some women in the summer is finding a great deodorant… and there is a growing concern over medical reports that document the accumulation of commonly used deodorant chemicals in the body. Traditional deodorants that may contain aluminum, or parabens can potentially absorb into the delicate underarm area. Something that Dr. Doris Day recommends is Lavanila...its 100% natural, 100% healthy, 100% effective, no aluminum, no paraben, no propylene glycol… a breakthrough in natural deodorant; superior odor protection and vitamin-rich nourishment without the use of commonly feared harsh chemicals.
It has key ingredients such as goji berry; japanese honeysuckle; lemon, and aloe vera to calm & soothe skin. It's made without: parabens, sulfates, synthetic dyes, petro-chemicals…comes in 4 great scents, pure vanilla, vanilla lavender, vanilla grapefruit and vanilla coconut. You can get it Sephora for $18.