Look and Feel Young and Fab for Spring
Loading the player...
Videos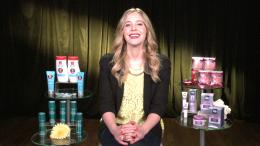 Embed code:
Copy (Ctrl-C or Command-C) and paste (Ctrl-V or Command-V) the code below to embed this video onto your site.
Check out our Terms of Usage
It's Stress Awareness Month... we all know what stress can do to our appearance, here are a few of our favorite beauty buys to help you look and feel younger!
So, starting at the top with our hair, one of the first signs of aging, those pesky grays.
Celebrity hair colorist Rita Hazan spent 4 years trying to solve one of the biggest problems for every woman who colors her hair…covering up the roots! Hazan just launched her fabulous root concealer, temporary color touch up spray. It's the very first ever touch up spray on the market, covers gray and any root growth quickly and easily with one spray. It's made from natural pigments, so it's safe if you're pregnant, $24 dollars at Sephora stores or sephora.com.
An instant way to look younger and more revived… white teeth! It has just become easier using, Luster Premium White, which has a whole line of at-home whitening products. Their new, Luster NOW! Instant Whitening Toothpaste is a dentist developed formula and was awarded Allure's Best of Beauty, Biggest Breakthrough for 2011! Its made with bluverite™ technology, Luster's proprietary formula that gives the optical effect of whiter teeth that lasts for hours, after only one brushing and it gradually whitens your smile over time. They also have a Luster NOW! mouth rinse for a really quick whitening touch up…the toothpaste generally retails for $7.99 at drugstores or you can buy it directly from their website.
When it comes to makeup, Physicians Formula®, an amazing breakthrough brand, has come out with a whole line of mood makeup, lipsticks blushers and bronzers, called Happy Booster™ – skin perfecting, "happy" makeup that is designed to enhance your mood and stimulate happy thoughts. It's made with botanical and aromatherapy ingredients that mimic the effects of endorphins to the skin…amazing! It's fabulous, and under 12 dollars.
Of course, we all know how important good skin regimens are, removing makeup before you go to bed, getting a good amount of sleep and applying a night crème is so key. The amazing brand, RoC® has come out with their Multi Correxion® Nourish Stress Repair night and eye crèmes. Clinically proven to specifically address the signs of aging caused by stress.
It has an anti-aging peptide complex that helps to smooth tension lines and wrinkles and make skin appear more youthful and radiant. 
 Sponsored by: RoC, Physicians Formula, Luster Premium White, Rita Hazan