2012 Billboard Music Awards
Loading the player...
Videos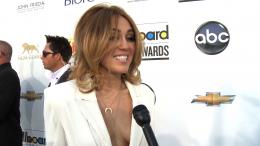 Embed code:
Copy (Ctrl-C or Command-C) and paste (Ctrl-V or Command-V) the code below to embed this video onto your site.
Check out our Terms of Usage
The annual Billboard Music Awards took place this weekend, the show was held at the MGM Grand in Las Vegas.
LMFAO stole a piece of the show, taking home six awards while Justin Bieber snagged the 'Top Social Artist' award.
Miley Cyrus was psyched to be a part of the show saying, "My buddies are here…Foster The People...I'm presenting...so I'm really excited to run into them!"
The award show was packed with amazing tributes and performances, this year. "Billboard is a powerful brand and we wanted to bring it back, we are very proud of what we're putting on the stage," said Executive Producer of the show, Richard D. Beckman.
Perhaps the most moving… a tribute to Whitney Houston, that included stellar performances by both John Legend and Jordin Sparks.
Houston was also honored with the Millennium Award, which was accepted by her only daughter, Bobbie Kristina and her sister in law, Pat Houston.
Also commemorated, Donna Summer, Adam Yauch and Robin Gibb, whose passing was announced hours before the award show.
As predicted, songstress Adele was the big winner of the night with 12 awards,also included in the winners circle; Lil Wayne and Coldplay. Music legend, Stevie Wonder was presented with the 'Billboard Icon Award.'