2012 Can-Do Awards
Loading the player...
Videos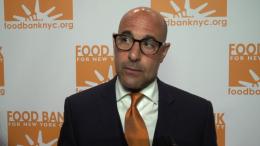 Embed code:
Copy (Ctrl-C or Command-C) and paste (Ctrl-V or Command-V) the code below to embed this video onto your site.
Check out our Terms of Usage
Food Bank For New York City, Can-Do Awards were held at Cipriani Wall Street in New York. Actor, Stanley Tucci, who informed us, "they put out over 400,000 meals a day," hosted the event.
Plenty of celebs came out to show their support…Mad Men star, Jon Hamm and his longtime girlfriend Jennifer Westfeldt, Wendy Williams, Kyra Sedgwick and Kevin Bacon.
Actress, Jill Hennessy is a major supporter saying, "organizations like Food Bank, help people on a daily basis, they make food accessible and they do it in a caring, humane, respectful way."
Guests enjoyed a performance by Gavin Rossdale and his band, Bush and bid during a live auction to benefit Food Bank.