2012 VMA Red Carpet Rocked With Katy Perry, Rihanna, Pink and More.
Loading the player...
Broadcast Quality Videos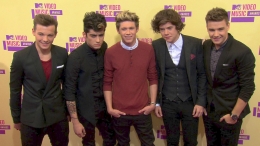 Embed code:
Copy (Ctrl-C or Command-C) and paste (Ctrl-V or Command-V) the code below to embed this video onto your site.
Images are available under attribution license - You must attribute LifeMinute.tv in any work or website that uses this image.
The red carpet rocked as the biggest names in music entered the 2012 MTV Video Music Awards. Katy Perry looked glamorous in a retro art-deco dress and wearing, for once, a very classic hair color, black, styled into long Old-Hollywood waves. Taylor Swift and Rihanna both chose to wear all white and dramatic red lips. Miley Cyrus looked pretty punky in a sexy black dress with her new blonde haircut styled into a sky-high pompadour. And of course, Nicki Minaj flaunted her signature out-there style in a black lace body suit and billowing neon hair topped with a black leather motorcycle hat. Other red carpet sightings: One Direction, Alicia Keys, Green Day, Pink.