Celebrity Alumni Show Support at The 2012 Tisch Gala
Loading the player...
Videos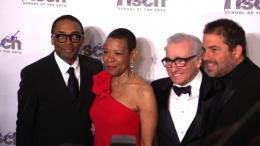 Embed code:
Copy (Ctrl-C or Command-C) and paste (Ctrl-V or Command-V) the code below to embed this video onto your site.
Check out our Terms of Usage
Spike Lee, Martin Scorsese and Alec Baldwin came out to show their support, at the 2012 Tisch Gala, held at the Marriot Marquis, in NYC on Thursday.
"I was in the undergraduate drama program…a really pioneering thing they did, was to take their student actors, when they weren't in the classroom…they studied with famous, famous, acting teachers here in New York," said Alec Baldwin, star of NBC's hit show, '30 Rock.'
The event honored Dean Mary Schmidt Campbell and her 20-year commitment to the school and the arts.
Director, Brett Ratner, attributes much of his success to the school saying, "Tisch School of The Arts made my life, made my career…the professors there were the most inspiring, gave me the most confidence…I learned so much."