Gaga Gets Naughty, Nice and Nostalgic at Z100 Jingle Ball
Loading the player...
Videos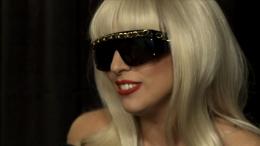 Embed code:
Copy (Ctrl-C or Command-C) and paste (Ctrl-V or Command-V) the code below to embed this video onto your site.
Check out our Terms of Usage
Lady Gaga, Kelly Clarkson, Demi Lovato and LMFAO were among the performers to hit the stage at the famed Madison Square Garden for the mega concert.
Gaga, who headlined the show, wanted it to be a great one for the sold-out audience.
"This was the first concert that I ever went to, so I'm hoping to have a special night for those in the audience," said the pop superstar.
Khloe Kardashian was also on hand, a first for the reality diva. "I've been to Jingle Ball in L.A before, never in New York, so I'm really excited. I love it because it's such a diverse crowd," she said.
The show is set to air on Fuse TV, December. 18 at 7 p.m.