Goldie Hawn Honored at Turnaround for Children Impact Awards Dinner
Loading the player...
Videos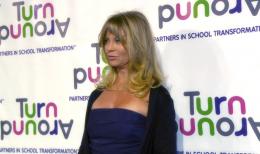 Embed code:
Copy (Ctrl-C or Command-C) and paste (Ctrl-V or Command-V) the code below to embed this video onto your site.
Check out our Terms of Usage
The Turnaround for Children's, Third Annual Impact Awards Dinner was held at The Plaza Hotel in New York City, Wednesday night.
In attendance; Goldie Hawn, emcee, Chris Cuomo and designer Donna Karan, who is very passionate about children and education, saying, "They need to learn empowerment inside, regardless of circumstance…they have the power to make a difference in this world."
Pamela Cantor, who started Turnaround, 10 years ago, told us, "I wanted to see if it was possible to design a school that could ensure that kids could catch up, be successful in school and mitigate some of the effects of poverty on growth."
Goldie Hawn was honored for her philanthropic efforts through The Hawn Foundation and told us, "It's important that we look at our classrooms…this is what creates the well being and the wellspring of maturity…understanding that they have a choice."
Also honored, JPMorgan Chase Foundation President Kimberly Davis, and Entrepreneur, Russell L. Carson.