Lisa Marie Presley on Her New Album "Storm and Grace"
Loading the player...
Videos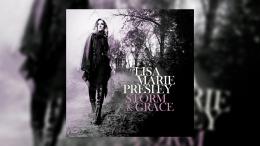 Embed code:
Copy (Ctrl-C or Command-C) and paste (Ctrl-V or Command-V) the code below to embed this video onto your site.
Check out our Terms of Usage
The 'Princess' of Rock and Roll, Lisa Marie Presley is ready for a new sound. Her latest album "Storm and Grace" is a nice, relaxed departure from her previous record.
"It is less produced more organic, definitely not a pop record…sort of earthy naked," Presley says.
So, who influences her aside from her famous father, Elvis?
Lisa Marie says, "my musical influences are usually singer songwriters from a long time ago."
The music is certainly powerful but don't expect to see a highly produced performance from Presley.
"I'd love to come out swinging from things and breathing fire but really, it's a very intimate record so the shows are super intimate," she said.
As for Elvis and his influence as a father, she says. "Every memory of my father was a great one…you cherish every single one when that person is not around."