Music Buzz: Exclusive Interview With Joss Stone
Loading the player...
Videos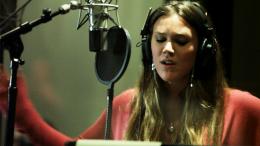 Embed code:
Copy (Ctrl-C or Command-C) and paste (Ctrl-V or Command-V) the code below to embed this video onto your site.
Check out our Terms of Usage
Joss Stone's LP 1 is the fifth album released by 24-year-old star. The first under her label, Stone'd Record. 
"Its exciting, really because I have this freedom now to go and just make music whenever I feel and give it to the world whenever I feel," she says.
She stays true to her music style- LP 1 is a mixed vibe of rock and blues. "The sound plus the instruments... that's what really threads it together," says Stone.