Music's Rising Stars Give Us The Scoop On What They're Up To
Loading the player...
Videos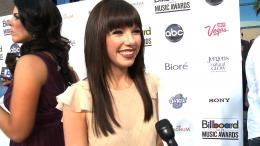 Embed code:
Copy (Ctrl-C or Command-C) and paste (Ctrl-V or Command-V) the code below to embed this video onto your site.
Check out our Terms of Usage
Musicians are always on the go, so much so, that sometimes it's hard to keep up! We tracked down some of the hottest artists topping the charts right now and asked, what's next?
Pop star, Gavin DeGraw has a jam-packed summer schedule. The singer told us he is hitting the stage with Cali cutie, Colbie Caillat.
Breakout star, Carly Rae Jepsen who burst onto the scene with her hit 'Call Me Maybe' is not slowing down one bit, saying, "I'm finishing my record…going to lock myself in the studio until it's done!"