It's Skin Cancer Awareness Month
Loading the player...
Videos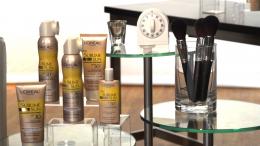 Embed code:
Copy (Ctrl-C or Command-C) and paste (Ctrl-V or Command-V) the code below to embed this video onto your site.
Check out our Terms of Usage
Sunshine and beach vacations are right around the corner. What are the top tips for staying safe in the sun?
When choosing a great SPF product, Dr. Gervaise Gerstner says to find a sunscreen that you like – that feels good on the skin – and something you will want to put on everyday. The L'Oréal Paris Sublime Sun Collection is a favorite – as it meets the new FDA monograph guideline, it has the Skin Cancer Foundation Seal of Recommendation and offers broad-spectrum protection in a luxurious ultra-light weight, easy-to- apply formulation. I really love the Crystal Clear Mist as it is easy to apply on both adults and kids (especially the often missed scalp area), it isn't sticky or tacky and doesn't leave any residue on the skin. It's also infused with vitamins and antioxidants to keep skin healthy and youthful looking.
So, what about the best practices, tricks or techniques on how to properly APPLY sunscreen? The key to proper sunscreen application, is knowing the proper amount to use. There are a few everyday home tools that anyone can use as a guideline: One full shot glass of sunscreen is the perfect amount for the body.
Brush it on…Sometimes it's hard to get kids involved in the everyday practice of applying sunscreen. A great way is to give the kids makeup brushes to brush onto their own skin.
Be sure to keep a close eye on time and how often you reapply. Use your phone or bring a kitchen egg timer – by as a general rule of thumb, reapply every 2 hours – especially if you are in the water. Also be mindful of the hours you are out. Sunrays are the strongest between the hours of 10am and 2pm. So, if you are out during those times, don't forget to wear sunglasses and a wide brim hat.
Finally, there are new statistics showing rising rates of melanoma in young women– what can young women do to protect themselves? As mentioned, Sunscreen and SPF protection is the most important step of any skincare routine. Over the past few years, there has been a rise in melanoma diagnosis in young women, especially women in their 30's. The risk of Melanoma is real and should not be taken lightly. Remember to get yearly skin checks and if you were to remember ONE thing this summer – it's to put on that sunscreen. The new FDA SPF regulations for sunscreens take effect this summer. Many consumers are still in the dark about what this means.
The FDA within the past year implemented a new SPF monograph system for all sunscreens to help make shopping for a sunscreen a little less confusing. Leading skincare brands like L'Oreal Paris have developed new sun care options that are compliant to these new SPF rules and on shelves, now.
Choose a SPF product that offers proven balanced protection. Both UVA and UVB rays contribute to sunburn, skin cancer and premature skin aging. With the new SPF rules, only products that provide balanced UV protection will be labeled 'Broad Spectrum' Don't look for an SPF over 50 - these are no longer available. Products that are not 'Broad Spectrum' or contain SPF levels lower than SPF 15 can only claim to prevent sunburn but not protect against skin aging or skin cancer. Sunscreens can no longer claim to be 'waterproof' or 'sweat-proof – so look for water-resistant on the packaging, you will also now see the recommended amount of time before reapplication is necessary (40 or 80 minutes).
Sponsored by: L'Oreal