Self Magazine's Healthy Food Awards
Loading the player...
Videos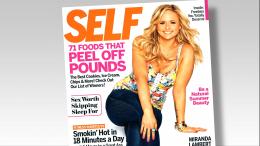 Embed code:
Copy (Ctrl-C or Command-C) and paste (Ctrl-V or Command-V) the code below to embed this video onto your site.
Check out our Terms of Usage
Self's Nutrition Director, Carin Gorrell has the scoop on the Healthy Food contest and all the delicious winners. For the June issue, Self asked 135 of its readers to test nearly 300 products in 71 categories. After much munching and sipping and yes, a few tums, there were some of the winners.
With about 10,000 products hitting supermarket shelves each year...it's hard to know the best, most nutritious buys for your buck.
Starting with the most important meal of the day, breakfast. MOM Brands, makes better breakfast at a better price, and two of their products won awards. The first is their Better Oats Raw Pure & Simple Bare, which is an awesome oatmeal. 100% USDA organic, and made with organic whole grains and seeds like flax, barley and quinoa.
In fact, it was awarded the whole grains council stamp, which means it has at least 40 grams of whole grains per serving. They have 23 different flavors to choose from, it's thick, hearty and makes a wholesome breakfast or even a great snack. And the Bare Flavor tastes great on its own or you can get creative and add your favorite fruit, nuts or even applesauce or syrup.
The next winner MOM's Best ® Toasted Wheat-fuls®. These wheat biscuits are light and toasty, made with 100% whole grain and 55 grams of whole grain per serving. Naturally cholesterol free, low in fat and sodium and an excellent source of fiber…no artificial flavors, colors, preservatives, or high fructose corn syrup, it's delicious! It's also wallet-friendly, priced 20-50% less than other natural/organic cereals.
Healthy Choice's chicken parmiagana is a light and satisfying take on this mealtime favorite, and is certified heart healthy by the American Heart Association. Crafted with select spices and lightly breaded. The chicken is paired with a classic marinara with fresh basil and garlic. Then topped with mozzarella, and comes with a serving of vegetables and a dessert for a sweet finish.
Alexia Oven Fries Wedge-Cut Potatoes are made from the finest pacific, northwest russet potatoes. One of our favorites snacks, flavorfully seasoned with pure olive oil and a touch of sea salt. So easy to prepare, just throw them in the oven and in about 20 minutes, you have a perfect gourmet snack or side dish. You can find Alexia products at natural, gourmet, club, grocery and mass retail stores.
Now when it comes to dessert, Dreyer's/Edy's Slow Churned Light Ice Cream has the creamy taste of regular ice cream, but with half the fat and one-third fewer calories. Slow Churned is quickly becoming a better-for-you, family favorite. It comes in more than 20 flavors, from mint chocolate chip to rocky road.
For more info on these and a complete list of winners check out the June issue of Self, out now or self.com