How to Create a Signature Cocktail with Chef Marcus Samuelsson
Loading the player...
Videos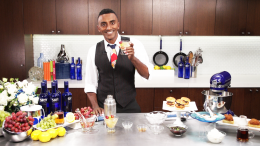 Embed code:
Copy (Ctrl-C or Command-C) and paste (Ctrl-V or Command-V) the code below to embed this video onto your site.
Check out our Terms of Usage
Holiday entertaining time is almost upon us but if you're one of the many having to host your own soiree but just a little bit intimidated...award-winning chef Marcus Samuelsson, champion of food network's chopped all stars and a judge on chopped, is here to help!
Marcus says don't overwhelm yourself and keep a few simple things in mind... its all about pairing a great tasting cocktail with a few great dishes.
Cocktails are really important, it's the first thing people encounter when they walk through the door. However people are really intimidated to try and create sophisticated cocktails. As the new culinary ambassador for Skyy vodka, part of his job is to demystify that.
One of the easiest ways to ensure you create a great tasting cocktail is to start with a premium base...whether it's gin, rum or vodka. For an amazing artisan cocktail make sure you use fresh, seasonal ingredients. The good news is that you probably have these ingredients already at home or you can easily pick them up at your grocery store or local market.
Try the Skyy savoy. The base is vodka... Marcus uses award-winning Skyy because it really elevates any cocktail experience. It doesn't overpower the cocktail…it let's all of those fresh flavors shine through. The savoy calls for fresh red and white grapes that are in harvest for fall and really capture the mood of the season. Simply mix the vodka with muddled grapes, add in some fresh agave and lemon juice, shake it up and garnish with a few grapes and you're done.
Now the food—Marcus is always inspired by his love and appreciation of using high quality, fresh, seasonal and classic flavors inspired by many of his travels through exotic locations. He likes taking classic dishes, like grits or meatballs and adding some fun twists to them. You can easily do the same thing at home and recreate some new fall recipes. Three of his new favorite dishes he created recently include:
• Wild mushroom & apple grits
• Turkey meatball sliders with cranberry chutney
• And chicken and waffles
Log onto facebook.com/skyyvodka for more recipes