How to Throw a Fabulous Summer Bash on Any Budget
Loading the player...
Videos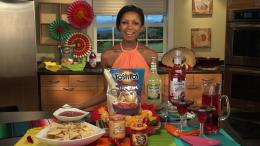 Embed code:
Copy (Ctrl-C or Command-C) and paste (Ctrl-V or Command-V) the code below to embed this video onto your site.
Check out our Terms of Usage
Party season is right around the corner and It is totally possible to throw a fantastic summer party, in no time, on any budget. Just focus on a few party must-haves...
Of course its all about the food and drinks…But you don't have to make a big deal with a huge meal…just start with some amazing pick food that everyone loves and people can help themselves. Tostitos, Tortilla Chips for example...a party staple, very festive and they have all different types, Restaurant style or Hint of Flavors or Scoops that have a bowl-shaped design for better dipping.
Then just make sure to have a good array of dips--- salsas, queso and even the newest Tostitos zesty taco flavor dip.You can get more party pointers on the new fiesta 411 tab on Frito-Lay's Facebook page.
Of course, no party is complete without a signature cocktail, and nothing says Cinco de Mayo or summer more than a delicious margarita! This year, Jose Cuervo has mastered the mix with their brand new ready-to-serve authentic Wild Berry Light Margarita –it's bursting with flavor! The perfect mix of strawberries, blackberries, and blueberries and made with Jose Cuervo Especial Gold, the number one selling tequila in the world. And the best part…it's under 95 calories per serving!
Just pour it over ice, and voila---you're done…amazing. Try topping them off with frozen berries and mint leave and you can have them pre-made already, so guests can help themselves. Or, leave it in the pitcher to pour and it also makes a great centerpiece. Of course… drink responsibly people! Make sure you have plenty of snacks and some other non-alcoholic options as well, like Jose Cuervo Zero Calorie Margarita Mix.
When it comes to the décor, keep it simple. Instead of buying paper goods over and over…look for things you can use year after year…like morracas, or a fun hat!
Sponsored by: Frito-Lay & Jose Cuervo