Simplify Your Life in Style
Loading the player...
Videos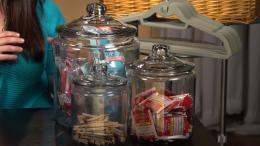 Embed code:
Copy (Ctrl-C or Command-C) and paste (Ctrl-V or Command-V) the code below to embed this video onto your site.
Check out our Terms of Usage
From the office, to home, to our hectic personal lives… women need help

finding balance in their everyday routines.

Well,

Schick Intuition

recently did a survey and found out that nearly 3

in 4 women (71%) say they have at least one girlfriend who needs to do just that. Jill Pollack partnered with the brand for

their Simplicity Project Campaign, to help women simplify their everyday

lives.
Lets start with your beauty routine! When it comes to get ready in themorning, who wouldn't like to reduce the number of products we use and time spent in the shower? Schick Intuition took a task that a lot of

women find daunting, and simplified it with the Schick Intuition razor.

It lathers and shaves in one, easy step, which eliminates the need for

shave gels or creams. It comes in three varieties, and right now they

have really cute limited edition handles available.

Next, our bedroom and kitchen…baskets and jars are the ultimate tools

for a variety of organizing solutions. You're able

to either conceal or showcase your items and the clear container lets you

easily identify your stuff, plus the jars look great lined up on your

kitchen or bath counters too…. so it's design and function in one.

There

is a size, shape and a style for every need…use them around the house

for different things…pantry items, towels, magazines, clothes. You can store anything from food, to bathroom items; to

office tools… you name it!

For organizing your home office or busy daily schedule, another great

design function is stick and peel blackboards…you can find them at places

like Michael's or Target etc. They look great and they also function as

list/note keepers…and reminders of things to do.

And finally our closets, one of the most, messy places in the

home. Take stock in good hangers: make sure they are slim and huggable

and don't take up too much room, which will mean less clutter.

For more

information on the Schick Intuition Simplicity campaign visit

Schick Intuition on

Facebook

.

Sponsored by: Schick Intuition