Spring Cleaning Tips with Redbook Mag
Loading the player...
Videos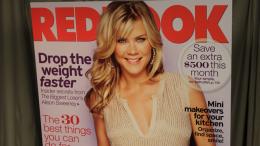 Embed code:
Copy (Ctrl-C or Command-C) and paste (Ctrl-V or Command-V) the code below to embed this video onto your site.
Check out our Terms of Usage
Redbook Magazine's, Morgan Thompson shares innovative and environmentally friendly products.
Lets start with something we use all the time… the washing machine, because it's an appliance that takes care of part of the cleaning process for us, we often forget that we need to clean the machine itself! Many families these days have high efficiency washing machines, which use less water and save energy. But sometimes these machines can build up residue that causes bad odor, so it's important to keep up with proper usage and maintenance habits, in order to prevent laundry problems from occurring. Try running a monthly clean-out for your washer—and what better time to start that routine than at spring -cleaning time?
Luckily, Tide created a washing machine cleaner which solves this problem! It has a powerful oxygenated bleach system that gets to the source of the odor…penetrates and lifts away any residue and deposits from the surfaces inside the drum…and leaves behind a fresh scent. Once a month, just load a pouch and run a wash cycle without any laundry inside and that's it! It's super simple and safe for all washers. Another great tip is to keep the washer door slightly open when the machine's not in use.
On to the kitchen… Cascade has come out with an all-in-one cleaning system, called Complete Action Pacs, that consistently clean dishes without any pre-washing, so you're saving water by skipping the pre-wash rinse. This is just one way to make a small change in your daily routine that can lead to a significant positive change for the environment.You don't have to sacrifice performance either - they have a special combo of 3 shine ingredients that are tough on grease, and prevent film from depositing on your dishes.
Of course it is SO important to recycle, recycle, recycle! Instead of tossing your old stuff, have a garage sale or donate to charity, make some extra cash!
Also, make an effort to get and stay organized! Clean out old medicine and food cabinets, check expiration dates and be sure to discard anything that has expired.
One last helpful tip, restock your cleaning supply kit beforehand! That way, when you choose that weekend to tackle it all, you have everything you need in one place. It will save you tons of time.
Sponsored by: Tide & Cascade