Get Heart Healthy: Great Tips and Must-Have Advice
Loading the player...
Videos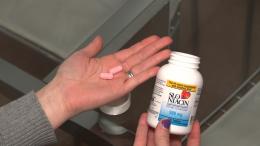 Embed code:
Copy (Ctrl-C or Command-C) and paste (Ctrl-V or Command-V) the code below to embed this video onto your site.
Check out our Terms of Usage
Leading Cardiologist, Dr. Carl Lavie gave us the scoop on how to maintain a healthy heart. Now, for some keeping your heart in check takes more than good nutrition and exercise; many rely on supplements or prescription medications to keep their cholesterol in check.
But, if you are one of the many choosing niacin supplements, it's important to know, they aren't all the same, and may not be supporting good cholesterol at all.
So, when it comes choosng the proper supplements and medications for lowering your cholesterol... Dr. Lavie recommends SLO-NIACIN® tablets, which help maintain good cholesterol and he says, "is a very good product that has well over 20 years of experience and I've been using this since the late '80's." The best part, you can get it over the counter. For more information go to http://www.slo-niacin.com.
Also, diet is crucial... "A good way to try and maintain a healthy cholesterol is certainly, starting with diet and reducing saturated fat, cholesterol and especially trans fatty acids in the diet are very important," he says. Also, remember to exercise, exercise, exercise!
The right supplement combined with diet and exercise can truly help you maintain a healthy heart!
Sponsored by: Upsher-Smith Laboratories, Inc.