Healthy Snack Options for Kids with Dr. Oz Garcia
Loading the player...
Videos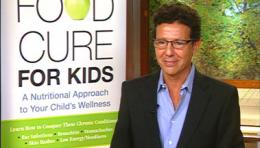 Embed code:
Copy (Ctrl-C or Command-C) and paste (Ctrl-V or Command-V) the code below to embed this video onto your site.
Check out our Terms of Usage
By: Dr. Oz Garcia
It's the new year and we're all trying to make healthy eating resolutions…especially when it comes to our kids. Nutritionist to the Stars and author of the new book, "The Food Cure for Kids," Dr. Oz Garcia, shares some healthy snacking options for the little ones in ours lives.
So how do we get our kids on a healthy path? Where do we start?Dr. Garcia: Well it's all about making healthier choices…there are so many great options out there…it's just knowing what to look for.. Fruit for example—your child should have 2 to 4 fruit servings a day---kids love fruit snacks…but it's about choosing the right ones. Funky Monkey snacks are delicious, 100 percent all natural real fruit, nothing artificial added. They come in fun flavors like banana, pineapple, mango, apple and kid friendly packaging. They have 3 servings of fruit per ounce….portable, convenient, no mess or prep… which is also key because when you're running around you don't want to have to stop for lunch or something on the go. They're also free from allergens like milk, soy, and gluten which a lot of parents have trouble with. Another fabulous snack that you can take on-the-go….nuts! Pistachios the only green nut. There are so many health benefits. They are loaded with antioxidants, may help lower cholesterol, lower your risk of heart disease and reduce your body's response to stress, They are really a super food for 2011 and such a terrific snack for families. Most people don't realize that you can have 49 pistachios per serving, more than any other snack nut. Plus they are delicious!What are some tips to account for when you go shopping to make better choices?Dr. Garcia: When you're out grocery shopping---make sure to read the labels. That will help you make smarter choices. Sensible Portions…the name speaks for itself…are all-natural, portion controlled packages that not only tell you the serving size, but tell you the sensible features of the product—whether its cholesterol free, no trans fat, no preservatives. This is so great, it really fills you in on everything you need to know. They come in veggie straws, apple straws, potato straws..,all natural and really taste great. What about when it comes to juices/drinks?Dr. Garcia: When it comes to juices---they're loaded with sugars so again you need to watch what you're buying. Traditional orange juice is even loaded with sugar and empty calories. Irecommend a healthier option called "Omega Orange"…its from Genesis Today. It's the most nutrient dense orange juice available in the United States…loaded with vitamins, minerals, and antioxidants….200% of vitamin c and 500% of b12…that help support kids' brain health, cardiovascular health, joints, and healthy skin. It's available in the refrigerated section of Wal-Mart stores nationwide.