Jason Mraz on Healthy Eating
Loading the player...
Videos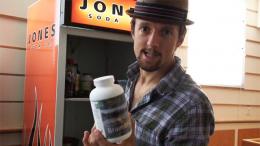 Embed code:
Copy (Ctrl-C or Command-C) and paste (Ctrl-V or Command-V) the code below to embed this video onto your site.
Check out our Terms of Usage
Pop star Jason Mraz is all about healthy eating these days, so much so that he purchased a fruit farm of his own in San Diego, California.
The "I'm Yours" singer says, "Don't ever drink soda, there is nothing natural about soda…at all. I doubt they even use New York City tap water."
The singer songwriter highly recommends Bee Pollen and says it's "so great, so good for the energy. "