Look and Feel Your Best this Spring
Loading the player...
Videos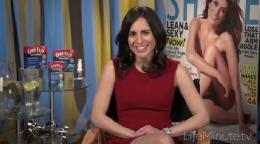 Embed code:
Copy (Ctrl-C or Command-C) and paste (Ctrl-V or Command-V) the code below to embed this video onto your site.
Check out our Terms of Usage
Spring is upon us, so how do we look and feel our best?
BT: Well let's start on the inside. We all know exercise is important, to keep you healthy and alleviate stress but it will also boost a mood-- a new study even shows it's especially important for people who are in leadership positions. If you exercise as little as 30 minutes twice a week you are less likely to be mean or rude to employees. 
Also a morning workout can help you fall asleep more easily and sleep is crucial for staying well on the inside and out. Next, you want to make sure you're eating balanced meals.. They should be high in fiber and whole grains and should contain lean proteins. Limit your fat intake and dedicate one splurge meal a day. 
Also, drink tons of water. A lot of the time we confuse thirst for hunger, so keep a water bottle close by. Studies also show that the less hydrated women are, the less happy they feel, so control your caffeine intake which dehydrates you and drinks lots of water and decaf tea.
And when you do feel something coming on…a scratchy throat or a little stuffy nose, do something about it as soon as possible Take Cold-EEZE, which is a cold remedy. You can take a lozenge or use the new oral spray (you'll need just 2 sprays in your mouth.)
Cold-EEZE contains zinc gluconate and has been clinically proven to shorten the duration of a cold by nearly half. All Cold-EEZE products release zinc ions, which are absorbed by the upper respiratory tract, this blocks the cold virus from replicating.
Sponsored by: Cold-EEZE