Think Pink: Brands Give Back During Breast Cancer Awareness Month
Loading the player...
Videos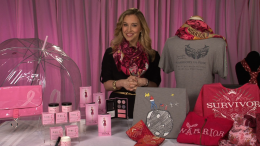 Embed code:
Copy (Ctrl-C or Command-C) and paste (Ctrl-V or Command-V) the code below to embed this video onto your site.
Check out our Terms of Usage
It's Breast Cancer Awareness month and brands across the country are giving back to help support a cure for this disease that affects more than 200,000 women in America. 
Ulta Beauty has a windows of love – donate with a kiss campaign…. with each $1.00 donation to the breast cancer research foundation you get an Ulta kiss decal that will hang in the Ulta windows…and you'll have a chance to win an amazing big beauty bag of pink products. If you donate ten kisses (10 dollars) you can get a pink ribbon umbrella or a pink ribbon cosmetic bag. 
On October 16th, they are also having a salon cut-a-thon- go into an Ulta store and for a suggested 10 dollar donation….you'll get a cut, shampoo, and style from one of their pros…100% goes to the Breast Cancer Research Foundation. 
 They're also giving free makeup and skincare demos from some great brands and they're offering 2 limited edition, exclusive products… Philosophy's hope in a jar ----its Ulta's #1 selling moisturizer in a pink jar ---an amazing product that….hydrates and improves skin texture and tone….. its $38 and philosophy will donate $5.00 ... and Stila which is another great beauty brand…is offering their "empowered in pink" travel palette for $14, and donating $1 from each sale. for details check out www.ulta.com/windowsoflove 
This year marks Ford Motor Company's 17th year of support for Susan G. Komen for the cure. They've dedicated more than $110 million to date. This year they're doing something neat –collaborating with Jennifer Aniston and Lifetime to premiere the movie called "Five" ---an anthology of five short films about the impact of breast cancer on people's lives. Jennifer Aniston produced it…and she also went one step further with Ford by designing a special edition tee. $20 at fordcares.com - 100% of the net proceeds go to the breast cancer cause.
Sponsored by: Ulta Beauty & Ford Motor Company