Hottest Home Design Trends with Jillian Harris
Loading the player...
Videos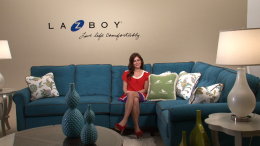 Embed code:
Copy (Ctrl-C or Command-C) and paste (Ctrl-V or Command-V) the code below to embed this video onto your site.
Check out our Terms of Usage
So what are the home design trends this winter that we should be looking for?
And how do we incorporate them into our home seamlessly?
JH: The biggest trend and probably the easiest to pull off is bold color. As much as we all still appreciate the muted rustic and reclaimed movement, bold colors always bring a cheerful setting to the living space.
Great ways to incorporate this trend is with little touches like throw pillows or accent rugs…or with one key statement piece such as an accent chair…or go really bold by making your sofa the focal point of a room...everything you see here is from La-Z-Boy.
La-Z-Boy has a lot of great solid colors and printed fabrics that work really well on a variety of sofas, loveseats and chairs that are affordable. They have more than 900 beautiful fabrics to choose from.
And all of these great looking pieces are really comfortable too…comfort is sooo key as part of home design.
What else are we seeing?
JH: Another key trend is going preppy…this room (the poet lobby) exemplifies this trend….with a clean, fresh cape cod looking style and sculptural accents with patterns, textures and pops of subtle color to give it an updated look.
Menswear inspired furnishings is another trend… plaid and houndstooth, along with masculine streamlined shapes are not just for men anymore.
This look from La-Z-Boy is comfortable and approachable but still has a tailored and pulled together feel. Being able to mix patterns and textures without any rules and still come out with a complete look is hard to come by.
However, with this trend, and the help of La-Z-Boy products it can be pulled off very easily.
Sponsored by: La-Z-Boy